Rates for tenting and tent-trailers are set at $45 per night (2 people) or $315 per week (2 persons) plus HST tax. Fees include full hook-up. One tent or tent trailer per camping site. Extra persons pay $5 each per night. Check-in time is 11:00 am. Check-out is 10:00 am. After 10:00 am half day rates apply. Please refer to our reservations page for additional information and terms.

Each site includes parking for one boat trailer and one vehicle. When extra vehicles are involved please call for arrangements. For boat docking refer to our Other Rates page. We have an excellent launch for boats on our premises. Oil and gas are available as well.




Sites are allocated on a first come first serve basis. At time of booking every effort will be made to reserve your favorite site.

Tower Manor also has excellent tenting and tent-trailer facilities. Level sites make for easy sleeping while lush green lawns help to keep things clean. Mosquitoes are rare, promoting many a beautiful summer evening by the campfire.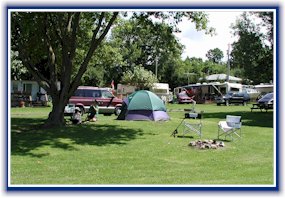 Drive thru sites are available, water is
laboratory tested and all sites include:
- Electricity (30 amp)
- Sewer Hookup
- Water
- Picnic table at each site
- Campfire area at each site
- Safe water supply